Two holes-in-one to start the year...
A hole-in-one is a rare feat in golf...how many have you had?
Many golfers play their entire life without achieving the distinction. However, after witnessing just 2 holes in one in the last 9 1/2 years of managing corporate golf days, we have had 2 within the space of the last 14 days.
The first one occurred at the Lexus of Canberra Golf Invitational at Royal Canberra when Phil Chynoweth holed out on the 3rd hole.
Then only yesterday at the Lexus of Sutherland Golf Invitational, Sue Kim stood on the 5th at Macquarie Links International Golf Club and put her tee shot straight in the hole. Sue was not even going to have a shot on the hole after one of the other guests hit it close.
Congratulations to both Phil and Sue!
It is a question that I often get asked, "how many hole-in-ones have you had?" I am pleased to say I have had six. Wait for it (I am not trying to brag), there is a funny story that goes along with this...for my 30th birthday my wife organised my own hole-in-one honour board. I made sure the details were correct and mentioned that they should leave some room because I plan on having a few more. Needless to say that I am now 41 and there have been no additions to the board - see photo below.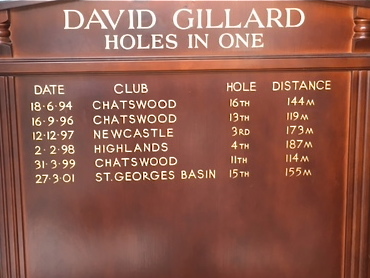 Take the stress out of your golf day, professional services are a phone call away! Look forward to talking to you soon.